Cast of Characters
Collaborators, Contemporaries, Companions, Competition, Commissioners
During Leonardo's lifetime he mingled with all types of people. From Kings and Royalty, to Peasants and Painters. To better understand his life we have to understand the cast of Characters that influenced his works and ideas.
Companions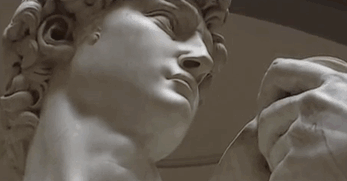 Michelangelo di Lodovico Buonarroti Simoni (March 6, 1475 – February, 18 1564) Pisces, Died at age 88. He was one of the "Holy Trinity" of Renaissance artists along with Leonardo and Raphael. Painter, Poet, Sculpture, and Architect. He is most known for his work on the Sistine Chapel Ceiling and the Statue of David.
(March 28, 1483 - April 6, 1520) Aries. His father was a court painter to the Duke but he was orphaned when he was only eleven. He supposedly learned and worked with both: Timoteo Viti and Pietro Perugino at a very young age. He is considered to be in the "holy trinity" of Renissance painters along with Leonardo and Michelangelo. He died at the age of 37 but completed many more paintings than Leonardo and had a huge influence on painters for generations to come.
Marco d'Oggione
Marco d'Oggiono (c. 1470 – c. 1549) was an Italian Renaissance painter and a chief pupil of Leonardo da Vinci, many of whose works he copied.
He was born at Oggiono near Milan. Of the details of his life, we know almost nothing — not even the date of his important series offrescoes painted for the church of Santa Maria della Pace in Milan. He died probably in Milan. Luigi Lanzi gave 1530 as the date of his death, but various writers in Milan say it took place in 1540, and now the best accepted date is 1549.
He was a hard-working artist, but his paintings are wanting in vivacity of feeling and purity of drawing, while, in his composition, it has been well said that "intensity of color does duty for intensity of sentiment." He copied Leonardo's Last Supper repeatedly, and one of his best copies is in the possession of the Royal Academy of Arts.
His two most notable pictures — one in the Pinacoteca di Brera (representing St. Michael), and the other in the private gallery of the Bonomi family (representing the Madonna) — are signed with his name in Latin, "Marcus".
His other works can be seen at Berlin, Paris, St. Petersburg and Turin, the one in Russia being a clever copy of the Last Supper by Leonardo. He cannot be regarded as an important artist, or even a very good copyist, but in his pictures the sky and mountains and the distant landscapes are always worthy of consideration, and in these we probably get the painter's best original work."- Source
Ambrogio Borgognone
"(variously known as Ambrogio da Fossano, Ambrogio di Stefano da Fossano, Ambrogio Stefani da Fossano or as il Bergognone or Ambrogio Egogni[1] c. 1470s – 1523/1524) was an Italian painter of the Renaissance period active in and near Milan. While he was nearly contemporary with Leonardo da Vinci, he painted in a style more akin to the pre-Renaissance, Lombard art of Vincenzo Foppaand Bernardino Zenale. The dates of his birth and death are unknown; he is said to have been born at Fossano in Piedmont and his appellation attributed to his artistic affiliation with the Burgundian school."
Andrea del Sarto (Italian: [anˈdrɛːa del ˈsarto]; 1486–1530) was an Italian painter from Florence, whose career flourished during the High Renaissance and earlyMannerism. Though highly regarded during his lifetime as an artist senza errori ("without errors"), his renown was eclipsed after his death by that of his contemporaries, Leonardo da Vinci, Michelangelo and Raphael.
Titan
"Tiziano Vecelli or Tiziano Vecellio (pronounced [titˈtsjaːno veˈtʃɛlljo]; c. 1488/1490[1] – 27 August 1576),[2] known in English as Titian /ˈtɪʃən/, was an Italian painter, the most important member of the 16th-century Venetian school. He was born in Pieve di Cadore, near Belluno (in Veneto, Republic of Venice).[3]During his lifetime he was often called da Cadore, taken from the place of his birth.
Recognized by his contemporaries as "The Sun Amidst Small Stars" (recalling the famous final line of Dante's Paradiso), Titian was one of the most versatile of Italian painters, equally adept with portraits, landscape backgrounds, and mythological and religious subjects. His painting methods, particularly in the application and use of color, would exercise a profound influence not only on painters of the Italian Renaissance, but on future generations of Western art.[4]
During the course of his long life, Titian's artistic manner changed drastically[5] but he retained a lifelong interest in color. Although his mature works may not contain the vivid, luminous tints of his early pieces, their loose brushwork and subtlety of tone are without precedent in the history of Western painting."
Girolamo Savonarola
(Italian: [savonaˈrɔːla]; 21 September 1452 – 23 May 1498) was an Italian Dominican friar and preacher active in Renaissance Florence. He was known for his prophecies of civic glory, the destruction of secular art and culture, and his calls for Christian renewal. He denounced clerical corruption, despotic rule and the exploitation of the poor. He prophesied the coming of a biblical flood and a new Cyrus from the north who would reform the Church. In September 1494, when Charles VIII of France invaded Italy and threatened Florence, such prophesies seemed on the verge of fulfillment. While Savonarola intervened with the French king, the Florentines expelled the ruling Medici and, at the friar's urging, established a "popular" republic. Declaring that Florence would be the New Jerusalem, the world center of Christianity and "richer, more powerful, more glorious than ever",[1] he instituted an extreme puritanical campaign, enlisting the active help of Florentine youth.
In 1495 when Florence refused to join Pope Alexander VI's Holy League against the French, the Vatican summoned Savonarola to Rome. He disobeyed and further defied the pope by preaching under a ban, highlighting his campaign for reform with processions, bonfires of the vanities, and pious theatricals. In retaliation, the Pope excommunicated him in May 1497, and threatened to place Florence under an interdict. A trial by fire proposed by a rival Florentine preacher in April 1498 to test Savonarola's divine mandate turned into a fiasco, and popular opinion turned against him. Savonarola and two of his supporting friars were imprisoned. Under torture, Savonarola confessed that he had invented his visions and prophecies. On May 23, 1498, Church and civil authorities condemned, hanged, and burned the three friars in the main square of Florence.
Savonarola's devotees, the Piagnoni, kept his cause of republican freedom and religious reform alive well into the following century, although the Medici—restored to power in 1512 with the help of the papacy—eventually broke the movement.